CHENNAI CITY
---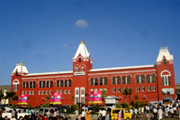 Chennai, the capital city of Tamil Nadu, is situated on the Coromandel Coast of the Bay of Bengal. It has played a very important role in the traditional, historical and academic growth of the country. Today, it is the 4th largest city of India and is also the leading commercial centre of South India. The credit of the booming economy of the city goes to its leading industries including cinema, automobile, software services, petrochemicals, financial services, textiles and hardware manufacturing. Chennai, being an important metropolitan city, is very well connected to all the major cities of India as well as with other countries. Considered as the cultural centre of South India, Chennai is famous for its affluent heritage in classical dance, music, architecture, sculpture and crafts.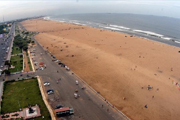 Known as the `Gateway to South India´, Chennai is a major hub for Indian cinema. It is home to some of the biggest filmmakers and cine artistes in the country. AR Rahman, Mani Ratnam, Shankar, Ilayaraja, Rajinikanth, Kamal Haasan, Shankar Mahadevan, Prabhu Deva, R Balki you name and Tamil Nadu has it.
The topmost cinema chains have their presence in the city - PVR Cinemas, INOX, Cinepolis, Carnival Cinemas, SPI Cinemas, Mayajaal, Abirami and AGS Cinemas to name a few. Sathyam Cinemas (now SPI Cinemas) is a celebrated cinema chain in the region. Apart from these, Chennai has many single-screens and single-screen adapted multiscreens such as Devi, Udayam and Shanthi. Besides Ahmedabad's Sunshine Drive-In Theatre, Chennai is the only city to have a first beachside drive-in-theatre called Prarthana Drive-In Theatre and Mayajaal is the only multiplex with nation's highest number of screens.
Chennai is the biggest contributor to film releases in India (287 movies in 2014) and Tamil movies are the most dubbed movies with high commercial success rates in the country.
Fact File
State: Tamil Nadu
Official Language: Tamil
Other Languages Spoken: English, Hindi
Area: 178.20 sq. km
Temperature in Summers: 37 °C (Max) 21.10 °C (Min)
Temperature in Winter: 32 °C (Max) 19.81 °C (Min)
Altitude: 60 m above sea level

Tourist Attractions
Marina Beach (world's second longest natural urban beach), Snake Park, St George Fort, Kapaleeshwar Temple, Santhome Cathedral, National Art Gallery, Silk Handlooms, etc.