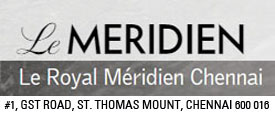 EXECUTIVE ROOMS
Buffet Breakfast at all day dining restaurant Cilantro restaurant.
Complimentary Wi-Fi
Complimentary 2 Way Airport Transfers
Complimentary bottle of Mineral Water replenished daily.
Complimentary usage of Swimming pool, Steam, Sauna & Jacuzzi at Le Mirage.
ROYAL CLUB ROOMS & SUITE ROOMS
Exclusive & Express Check in & Check out at the Royal Club Lounge.
Exclusive access to lounge with breakfast service, all day tea/coffee avec snacks.
Exclusive cocktail hours in lounge from 1900 hrs to 2030 Hrs.
10 % Discount on Food.
10 % Discount Laundry Usage.
10% Discount on SPA
Exclusive upgrade to Gold & Platinum members to Executive Suite(s).
Complimentary Wi-Fi
Complimentary 2 way airport transfers.
The rates are in Indian Rupees
The rates are exclusive of 12.5% tax on published tariff and 8.70% Service tax on Special tariff as per the State and Central Government tax policy
Tax structure is subject to change without prior notice or as per State and Central Government policy.