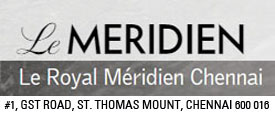 EXECUTIVE ROOMS
Buffet Breakfast at all day dining restaurant Cilantro restaurant.
Complimentary Wi-Fi
Complimentary 2 Way Airport Transfers
Complimentary bottle of Mineral Water replenished daily.
Complimentary usage of Swimming pool, Steam, Sauna & Jacuzzi at Le Mirage.
ROYAL CLUB ROOMS & SUITE ROOMS
Exclusive & Express Check in & Check out at the Royal Club Lounge.
Exclusive access to lounge with breakfast service, all day tea/coffee avec snacks.
Exclusive cocktail hours in lounge from 1900 hrs to 2030 Hrs.
10 % Discount on Food.
10 % Discount Laundry Usage.
10% Discount on SPA
Exclusive upgrade to Gold & Platinum members to Executive Suite(s).
Complimentary Wi-Fi
Complimentary 2 way airport transfers.
The rates are in Indian Rupees
The rates are exclusive of taxes
Tax: 18% on rate Below INR 7500/- and 28% on rate above INR 7500/-